Keystone First, Community Partners Reach Milestone at Neighborhood-Based COVID-19 Vaccination Site
Threat of emerging virus variants emphasize importance of vaccine access for those in marginalized communities
March 9, 2022 - Philadelphia, Pa.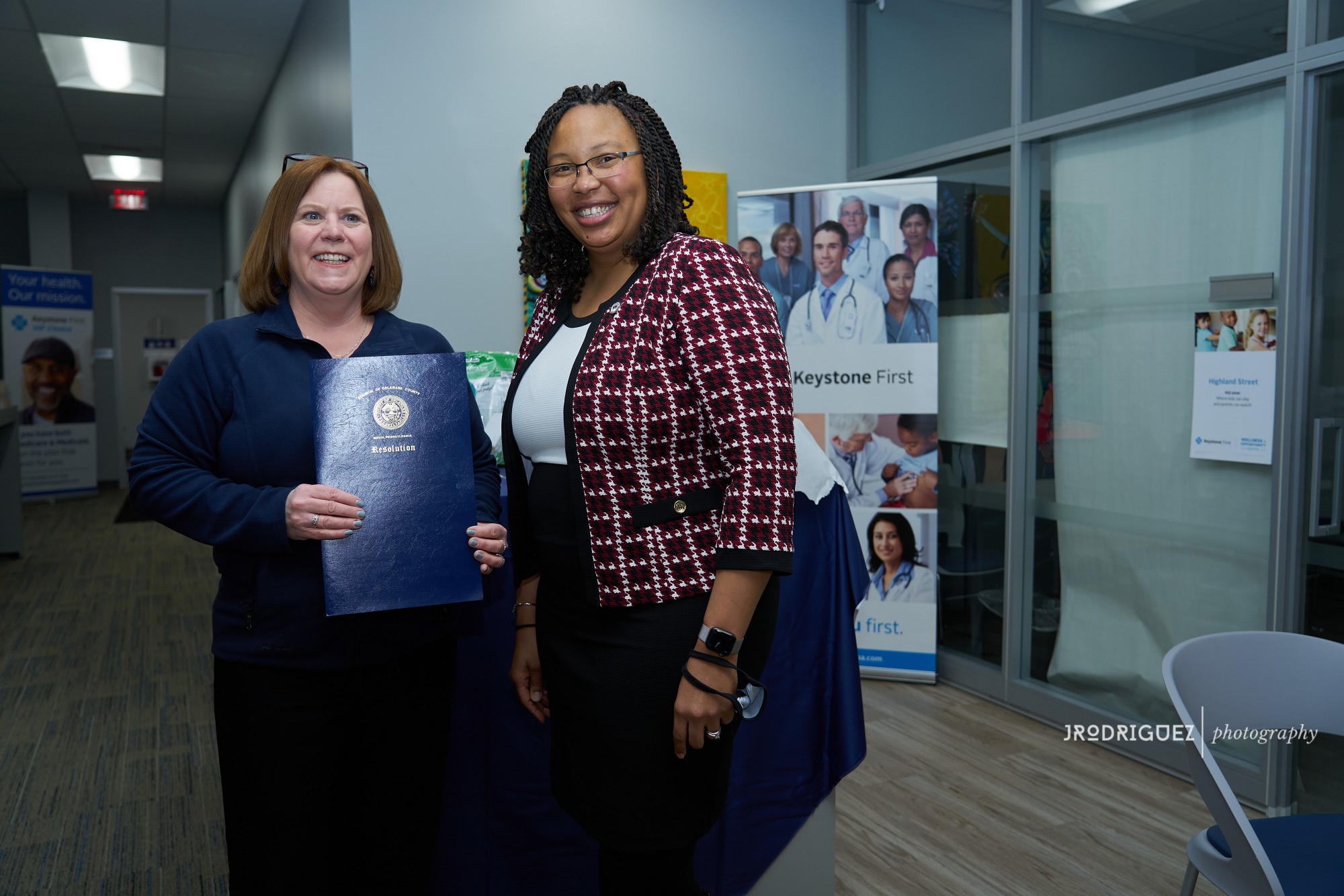 Joanne McFall receives a county proclamation from Delaware County Council Chairwoman Dr. Maria Taylor. McFall and Keystone First were recognized for their efforts to provide the COVID-19 vaccine to Chester residents.
Since March 2021, Keystone First – the largest Medicaid health plan in southeastern Pennsylvania – has provided use of its wellness and opportunity center as a neighborhood-based vaccination site, located at 1929 W. 9th Street, to improve health equity and create greater access to the COVID-19 vaccine in marginalized communities. Marginalized communities have been disproportionately affected by COVID-19 during the pandemic.
With the threat of the newest virus variants – Omicron and Delta – residents have been returning to the site for their vaccine booster shots.
"The creation of the neighborhood-based vaccination site was the result of our longstanding history of working directly in local communities to address health equity," said Keystone First Market President Joanne McFall. "Although we are very proud of the results of our work in 2021, the threat that COVID-19 poses to our most vulnerable neighbors is not over. We are entering a new phase of this fight and we must remain vigilant."
"I applaud Keystone First and the Delaware County COVID Task Force for being willing to work with us to develop and implement a plan to reduce barriers to the vaccine," noted Chester Mayor Thaddeus Kirkland. "Now is not the time to rest on our laurels. COVID is still spreading. We must continue to build upon this success."
Rosemarie Halt, Delaware County COVID Task Force Director, said the 14,000 vaccine dose milestone is worthy of recognition, but the rapid spread of the Omicron variant should temper any enthusiasm.
"Keystone First's steadfast commitment to helping the City of Chester and Delaware County made this milestone possible," said Halt. "This year will bring new challenges in the fight against COVID, but with partners like Keystone First beside us we will continue to strive to address vaccine hesitancy and ensure access in all our communities."
Keystone First has more than 13,000 Medicaid, Medicare Advantage, and Community HealthChoices members in Chester, an urban community just outside of Philadelphia, which it has served for more than 30 years. The health plan has leveraged its community partnerships to address the many barriers and challenges that prevent members from engaging in health care.